It is an undocumented function of SQL, which comes up with the facility to analyze SQL Server log file. The fn_dblog() function recognizes two parameters, i.e. Start LSN and End LSN.
NULL is uniformly passed in the parameters to view all the present entries.
The fn_dblog() function can be used as:
SELECT * FROM fn_dblog(NULL,NULL)
Trick to Use fn_dblog() Function
Follow these steps as mentioned below to run fn_dblog function:
Firstly, you need to produce a database.
Create database readingtranlog;
GO
Now, generate a table in the database.
Use readingtranlog;
Create table person ( Sn int IDENTITY, Name char (25) );
Then, run fn_dblog() function and see the steps & processes happens in SQL Server for the creation of database & table.
Use readingtranlog;
Select count(*) from fn_dblog(null,null)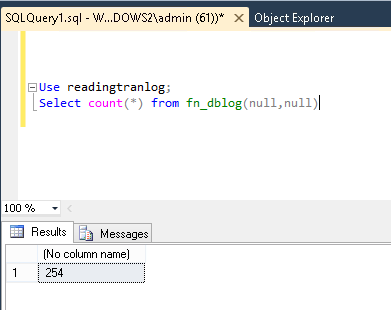 Next, you can see the data present the log file.
Use readingtranlog
GO
select [current lsn],
[operation],
[transaction name],
[transaction id],
[transaction sid],
[spid],
[begin time]
From fn_dblog(null,null)

Execute some operations like INSERT, DELETE, and UPDATE to check that way these operation added to the log file.
Use readingtranlog
GO
Insert into person values ('andrew');
GO
Update person
Set Name ='alan'
Where Name ='andrew'
GO
Delete person
Where sn='1'
GO
Finally, the log entries can be seen performed in the previous step
USE readingtranlog;
GO
SELECT
[current lsn],
[transaction id],
[operation],
[transaction name],
[context],
[allocunitname],
[page id],
[slot id],
[begin time],
[end time],
[number of locks],
[lock Information]
from sys.fn_dblog(NULL,NULL)
where operation IN
('LOP_INSERT_ROWS','LOP_MODIFY_ROW',
'LOP_DELETE_ROWS','LOP_BEGIN_XACT','LOP_COMMIT_XACT')