Repair Crashed Pen Drive showing Saved Data as Shortcut Icon
Introduction
Pen Drive is used as a portable device to transfer data and store data in a fast and simple manner. USB Drives attain a major role in sharing and storing data on different computers. A user can store a huge amount of data on a tiny Flash Drive. But the Pen drives are also a fastest mode of transferring virus and data corruption. As most of the computers are equipped with USB Ports, it is very simple to migrate the data from a different system. So during these process of exchanging information leads to data corruption and malware malfunction. Due to this malfunction, sometimes the USB flash also gets affected and the file in it gets corrupted. It results in creating a shortcut file in our flash drives and it becomes inaccessible. In this article, we will try to fix virus infected Flash Drive and extract hidden information stored in it.
Scenario
"I am having trouble in accessing my data stored on the Flash Drive. Just few hour earlier, I migrated some document from my colleague's PC, and when I inserted it into my system it is showing it as a shortcut icon. When I tried to click a file, nothing happens. I am unable to open a file from there."
Reasons for Shortcut files in Pen Drive
There are various reasons leading to inaccessible files on a Thumb Drive. Most common and major reasons are discussed below.
1. Major reason for USB Drive not showing any data is due to harmful virus malfunctions. Dangerous malware can completely vanish the information stored on the Flash Drive.
2. Mishandling of Pen Drive on different devices can also lead to corruption of files stored in it. It results in creating the file system status of a Thumb Drive to form as a RAW file and entire data stored in it gets corrupted.
Suggested solution
There are differet suggestion suggested by data recovery expert to recover the lost data from the Pen Drive. Below are some manual technique to retrieve deleted files from usb using cmd, which requires sometimes time dedication and technicalities to perform the operation. But it is totally free and economic. While, other is with the help of third party tool.
Trick 1: How to retrieve corrupted files in USB using command prompt?
Below are some steps to retrieve hidden files from USB using cmd:
1. Locate a drive of USB Flash from the computer.
2. Press "windows + R" simultaneously from the keyboard and in Run window type cmd in the dialog box and press Enter.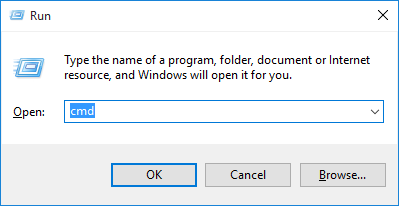 3. Now, type the letter of a drive assigned to the crashed Pen Drive and then type cd and press Tab key to show hidden folders.
4. Lastly, make those files and folders unhidden by typing attrib "foldername" – h from the keyboard. It will show hidden files on USB Flash Drive.
5. And if files and folder are affected by virus then in command prompt enter attrib -h -r -s /s /d (drive of PD):\*.* and then Enter.

6. It will retrieve hidden files from virus infected USB Pen drive and so that user can access them.
Trick 2: Unhide Pen Drive data using Google Chrome
If the above trick is unable to recovery USB Stick data then follow the below steps:
1. Browse to Flash drive and open it.
2. Then click on the navigation bar and copy drive address from it.

3. Now, copy the address and open Google chrome and paste it on address bar of the browser and hit enter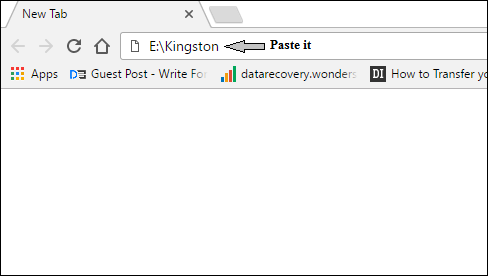 4. It will show all the index of file stored in the flash drive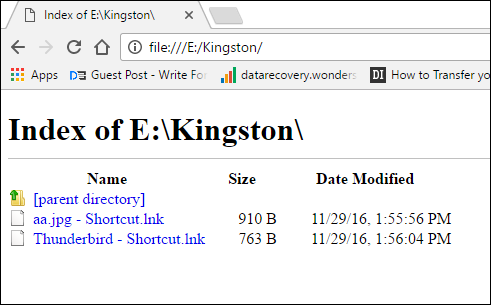 5. Now simply open the folder in which data is to be stored

6. Now just drag and drop the required file to desired folder.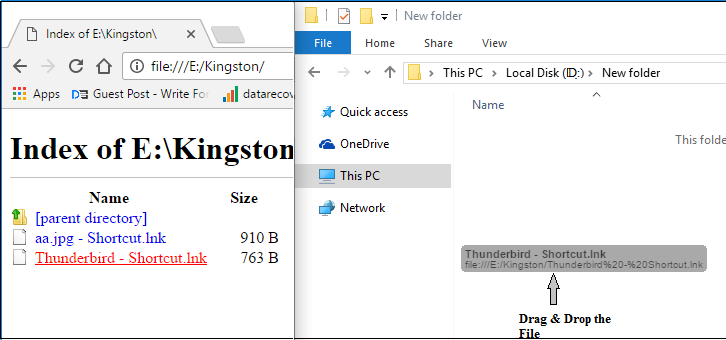 Trick 3: USB hidden files recovery software
Can not find lost files? Don't worry. You can repair crashed files from USB drive using Flash drive restore tool. SysTools thumb drive repair utility provides the trusted data recovery tool for USB Flash drive. When a user is unable to access the documents, presentations, multimedia files and other important document based on files name, file size, extension and different related details then the flash drive data recovery tool can easily recover deleted files from flash drive. User can also extract files from corrupted USB drive using an appropriate flash drive restore tool.
Conclusion
Referring to the article provides a sound knowledge to rebuilt USB Stick missing files. Users can simply recover the deleted files on their own, instead of calling a data recovery services or specialists. Manual method discussed in the article is totally a free way to repair crashed data from damaged pen drive, but it requires some technicalities. Whereas the flash drive repair tool as suggested by the expert as a 3rd party application will require some capital investment for a licensed version, but it'll save user's time and efforts. So depends the wish of a user's that how they want to recover their hidden information.