Microsoft Outlook developers provides an inbuilt solution, which is known as Inbox Repair Tool or scanpst.exe. With this tool, users can easily repair corrupted Outlook data file. It first scans the PST file and then repair it. The steps to perform corrupted PST file recovery is discussed below:
First, you have to close the Microsoft Outlook.
Then, click on the Local Drive, go to the Program Files and select the Microsoft Office. Next, click on the SCANPST option.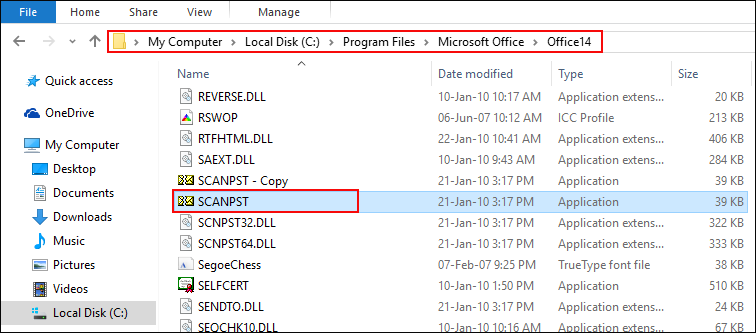 The pop-up Window will display, now, click the Browse button for selecting the Corrupted Outlook PST file which you want to repair and choose the Start button.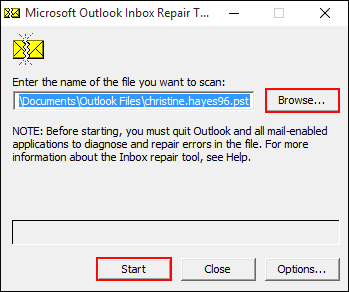 After selecting the Start option, the software will start to check the consistency of the specific file.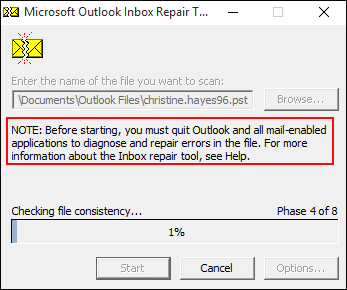 A new screen will appear, it will display location of .pst file, total number of folders and data items found in a PST file. Make sure that Make backup of scanned file before repairing option will be checked. After this, choose the Repair option to restore damaged or corrupted PST file.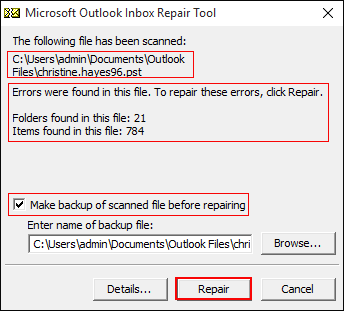 After clicking on Repair option, the scanpst.exe tool will start showing Repair complete message. Press OK button.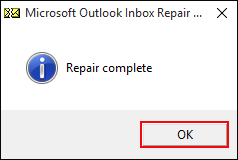 Points to Remember
Before executing SCANPST operation, make a backup copy of PST File.
The above steps are also applicable for Microsoft Outlook 2010.
What to do if SCANPST is not Found?
If users are unable to find the SCANPST utility on the default location, then they might disable Show hidden files and folder option. Be sure that this option is enabled.
For Windows 10, you have to check the following points:
Click on the Ask me anything option and enter the Folder Options and hit on the File Explorer options.
Then, a new screen will be opened as File Explorer Options. From the Advance Settings, click on the View tab. After that, enable this Show hidden files, folders, and drives option and Press OK button.
There are many circumstances in which scanpst.exe fails to repair Corrupted Outlook PST file which makes this application less efficient and reliable. In simple terms, the success of scanpst.exe tool is totally based on the corruption available in PST file. If above-stated solution cannot work fine, then, one can take help of the trusted third party software.